Passion Mission Action
News & Blog
2019-09-11 00:00:00
新一代复合工程塑料直插(快接)管件
欧美亚地区主流家户供水配管材质,自上世纪以来,以铜管搭配铜制接头为最普遍。进入本世纪后,一来基于对水质不稳定、管道长期锈蚀状况、金属价格波动等潜在问题的体察和经验,二来正值产业界于工程塑料领域的材质研究大大进展,催生了以工程塑料制成配管接头的研发浪潮,国际间第三方组织近期也相继拟定相应的测试标准和规范供选材参考。
Copper made tubing and fittings have been the most commonly used domestic plumbing products in the world since the last century. Lately in 2000's, however, due to experience of poor water condition, metal corrosion and increased cost over the years, plumbers began to look at alternative material option in polymer, just the time when petrochemical industry gained significant ground in engineered plastics. Third party laboratories and agencies worldwide continue to develop corresponding codes and standards to put in place for industry's reference.

爱伦十年以来投身致力于直插(快接)管件的研发制造,初期外销虽以金属制接头产品为主,近期也关注此市场需求的变化和趋势,而有成功研制工程塑料制快插管件问世。

Over the decade AILUN dedicate to and focus on innovation and manufacturing of advanced piping products – mainly metal based Push-Fit (Push-to-Connect) solutions for both domestic and export markets around the globe. In response to the recent needs and trend, AILUN invested in R&D and now proudly introduce its own polymer based plumbing products to the world.
首先于「排水」应用方面,领先全球开发了1-1/4"~1-1/2"快插接头系列,包含厨卫下水配管所需的接头、存水弯、螺纹转接等快接产品一应俱全;另于「给水」应用方面,则以最新世代饮水级塑料PPSU为材料,开发1/2"、3/4"和1"全系列快插配管接头产品,并获IAPMO/cUPC、ANSI/NSF、ASSE、SGS等国际认证。
Firstly, the AILUN Drainage Push Series is the world's first Push-Fit solution for DWV applications, offering comprehensive 1-1/4"~1-1/2" couplings, fittings, traps and threaded adaptors for kitchen and bath use. Further, AILUN also present the most advanced PPSU Push Series that best serve 1/2"~1" domestic water supply network and general fluid transport applications; internationally certified and listed by IAPMO/cUPC, ANSI/NSF 14, ANSI/NSF 61, ANSI/NSF 372, ASSE 1061, SGS, etc.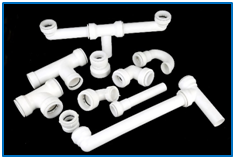 排水快插系列 Drainage Push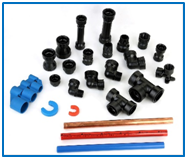 给水快插系列 PPSU Push
爱伦的塑料制管件,用于多种管材的冷热水、明暗管道应用,除了保有直插(快接)系统「简单易用」、「环保节能」、「高规强效」、「值得信赖」等四大特点,又结合了特选塑材的优异流体性能、不锈蚀、不积垢、静音耐震、坚固耐用、可回收等优势,最具性能和成本效益,实为配管应用不二之选。
AIULN engineered polymer Push-Fit fittings can be used with multiple types of pipes, in cold and hot water, above and under ground (behind wall) services, featuring typical PTC characteristics around 'Ease of Use', 'Peace of Mind', 'Go Green' and 'Unparalleled Performance', on top of which also providing additional advantages of better flow properties, scale & corrosion resistance, acoustic & seismic mitigation, durability and recyclability, benefitting from the advanced polymer materials utilized. Just the one product of choice!